Hot Selling Model10 tpd Sunflower Screw Oil Press Machine
oil pressers oil press machine oil mill oil extraction machine oil processing machine
Honest partner ---Guangxin company !!!
Item
YZYX140(-8)
YZYX140CJ
YZYX140GX
YZYX140CJGX
Revolving speed of spiral axis (r/min)
32-40
30-40
Power required(kw)
18.5(Y180M-4) or 22(Y180L-4)
Measurement (mm)
2010×750×1430
2220×800×1400
2100×820×1380
2200×820×1380
Weight (kg)
825
880
980
1100
Our series YZYX140 spiral oil press is suitable for squeezing vegetable oil from rapeseed, cottonseed, soybean, shelled peanut, flax seed, tung oil seed, sunflower seed and palm kernel, etc. The product has characters of small investment, high capacity, strong compatibility and high efficiency. It is widely used in small oil refinery and rural enterprise.
YZYX140 is basic 2-step-squeezing spiral oil press.
YZYX140-8 is 3-step squeezing spiral oil press with bigger compression ratio in the press chest, suitable for users who have operation experience and stress on low oil content of the dry cakes.
YZYX140CJ is a strong pressing type in which the pressure is big. Thus, the squeezing effect is better when operates properly.
YZYX140GX has bigger deceleration box which operates smoothly and has long service life.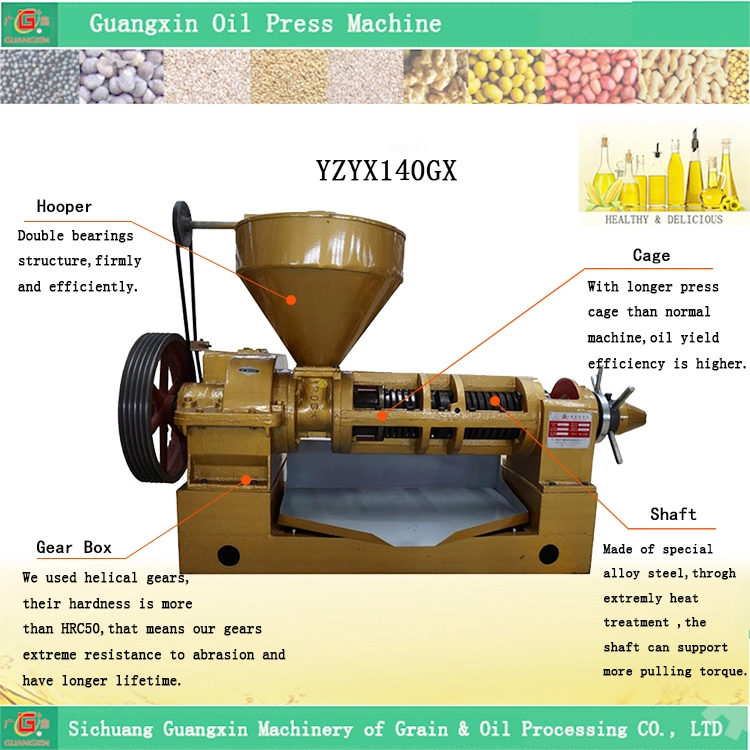 Suitable oil seeds
Guangxin Brand spiral oil press made by our company is suitable for squeezing many kinds of vegetable oil, such as rapeseeds, cotton seeds, soybean, shelled peanut, flax seeds, sunflower seeds, sesame seeds, corn germ, palm kernel, etc.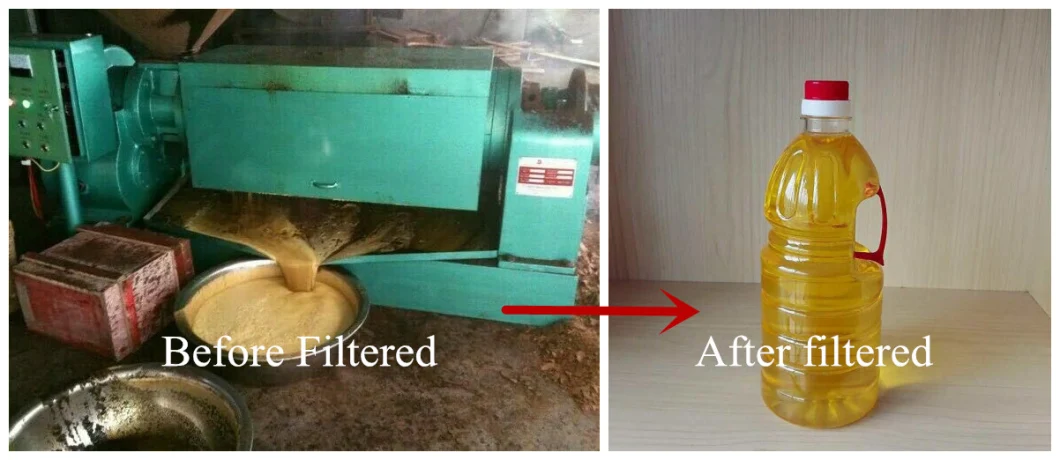 Characteristics of Guangxin YZYX140GX Screw Oil Press Machine
1. Healthy! Physical squeezing craft maximally keeps the nutrients such as the protein, fatty acids and minerals, etc.
2. High working efficiency! The spiral squeezing structure can achieve high oil output, thus the oil content of the residue cake is low.
3. Long durability! All the parts are made of the most suitable material and treated with refined crafts to ensure the long term runing, such as cemented quenching and tempering to increase the hardness, consequently the durability.
4. Cost-effective! The wearing parts on the machine such as the squeeze loop, squeeze spiral and squeeze bar are designed to be dismountable. When they are out of service period, users only need to replace them and no need to displace the whole machine.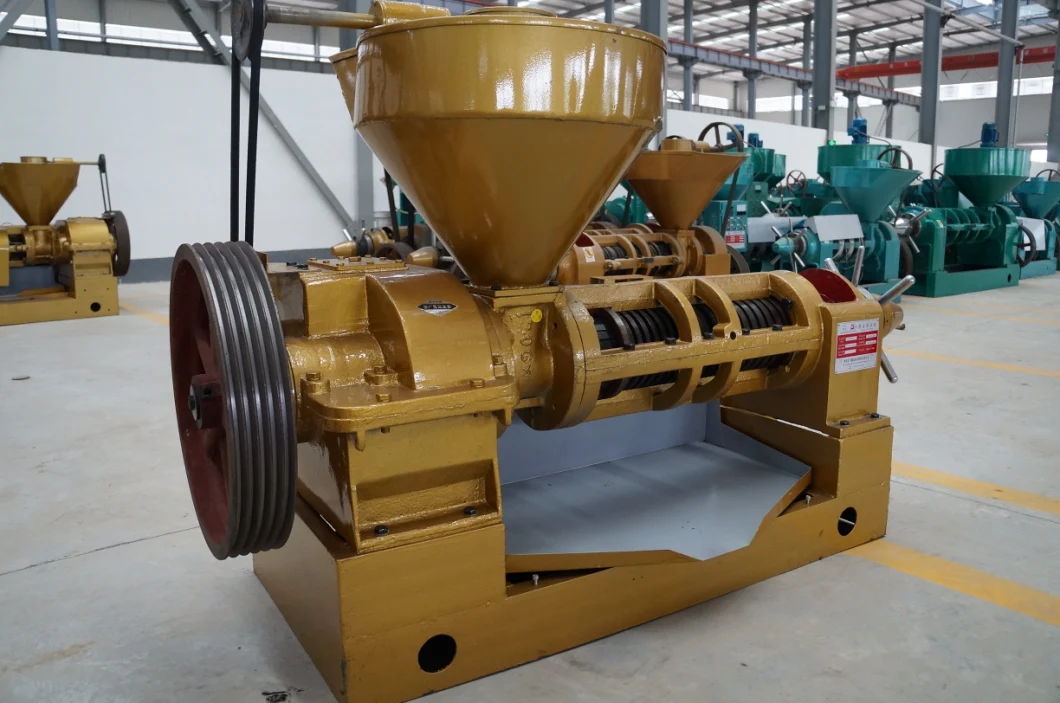 Single Sprial oil press
Model
YZYX70
YZYX90
YZYX10(95)
YZYX120
YZYX130
YZYX140
YZYX168
Processing capacity (t/24h )
1.3
3
3.5~4
6.5
8
9~11
20
Oil content of dry cake(%)
≤7.8
≤7.8
≤7.8
≤7.0
≤7.6
≤7.6
≤7.4
Oil press power(K. W )
4
5.5
7 or 11
11 or 15
15 or 18.5
18.5 or 22
37or 45
Measurement(LxWxH)
1090*405*806
1200*550*1000
1620*580*1195
1860*622*1275
1950*742*1500
2010*690*1430
2670*1000*1726
Spiral axes rotate speed (r/min)
36-42
32-42
32-42
32-40
28-40
28-38
32-38
Weight (kg)
195
285
570
590
825
806
1800

Note: YZYX series oil press machine is HIGH OIL YIELD oil press machine. Every model has been guaranted with ISO certifications. ALL GEAR IN GEAR BOX ARE BEVEL GEARS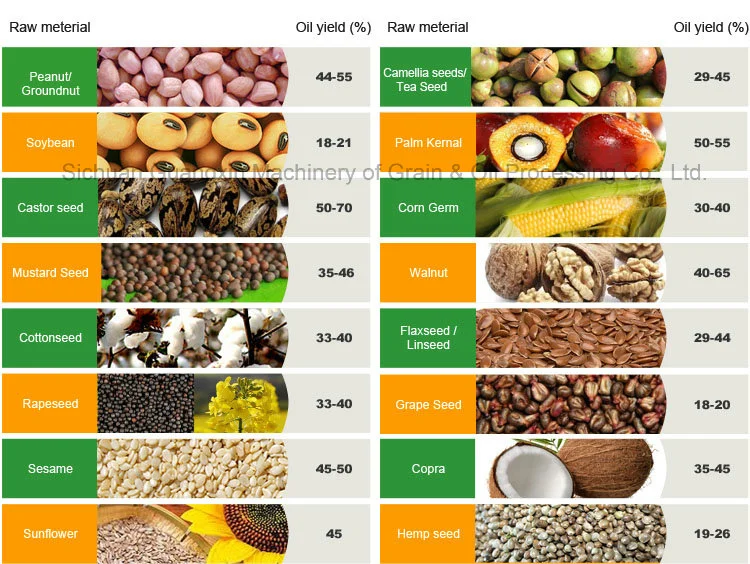 * Model YZYX oil press machine is easy to operate and repair, performs reliably.
* Residue oil in cake is less than 7.8%, high oil yield.
* Wearing parts are forged and quenched treated, hardness reaches HRC57-64, wearable for 1200tons oil material.
* Life time more than 12 years
* And is capable of processing a wide range of More than 30 types of oil plants rapeseed, sesame mustard seed ,castor seed cotton seed, soybean, peanut, flax seed, sunflower seed and palm kernel, jatropha, linseed and other vegetable oil plants,etc .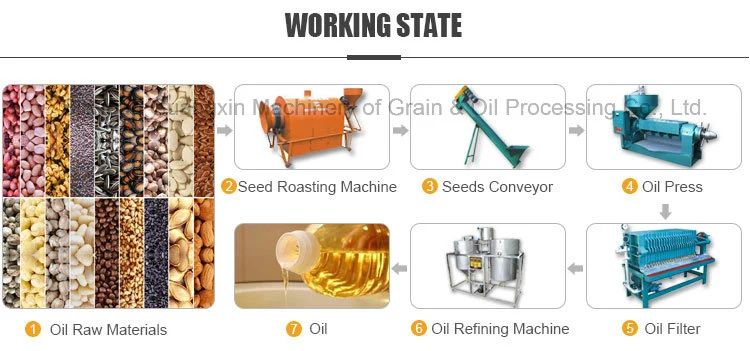 Company Information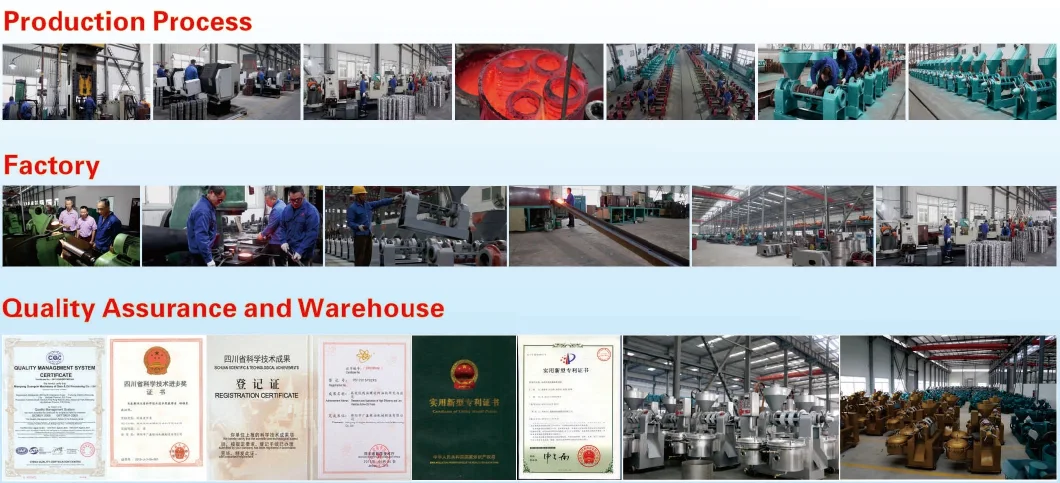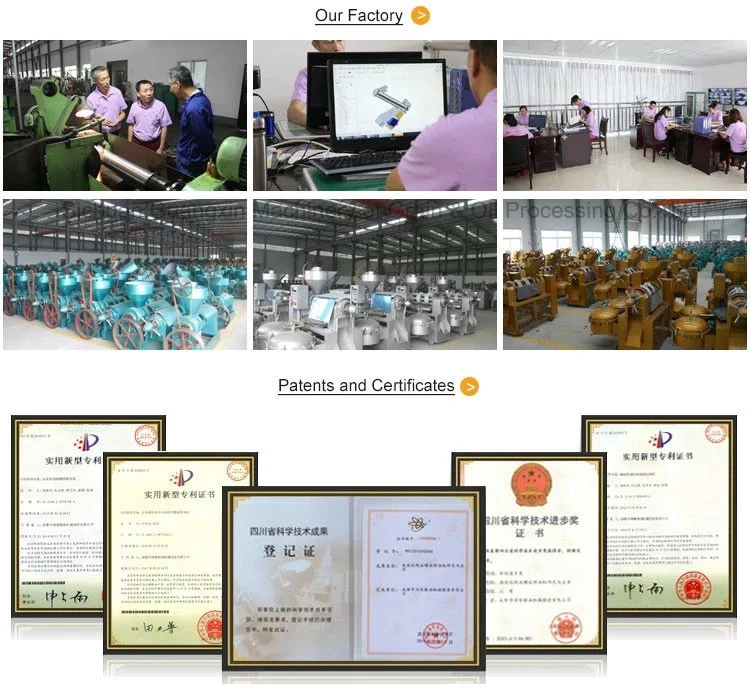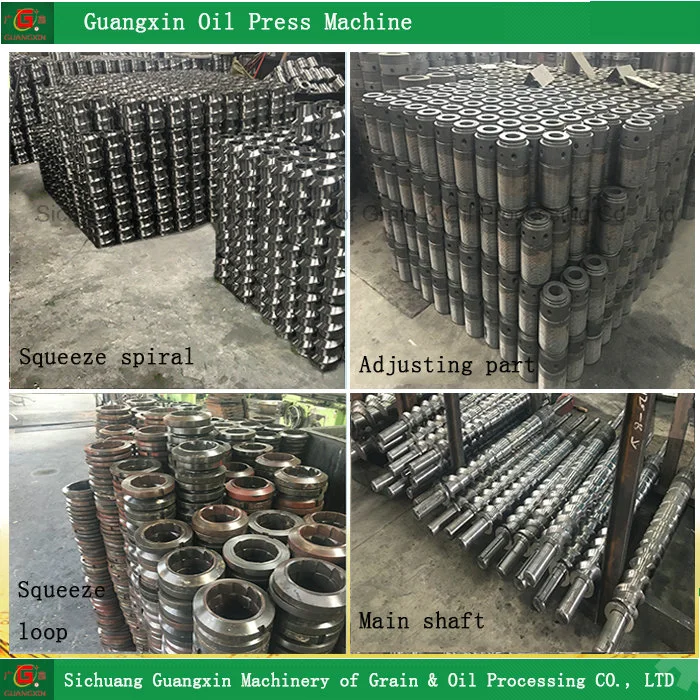 Our Services
1. 1 year free warranty,whole lifetime maintenance.
2.Supplying wearing parts all year around
3.Supplying technical solutions at any time
4.Helping design and plan the oil plant's construction
5.Providing installation vedeo
6.Tried orders are available
7.Developing agents with good policies around world.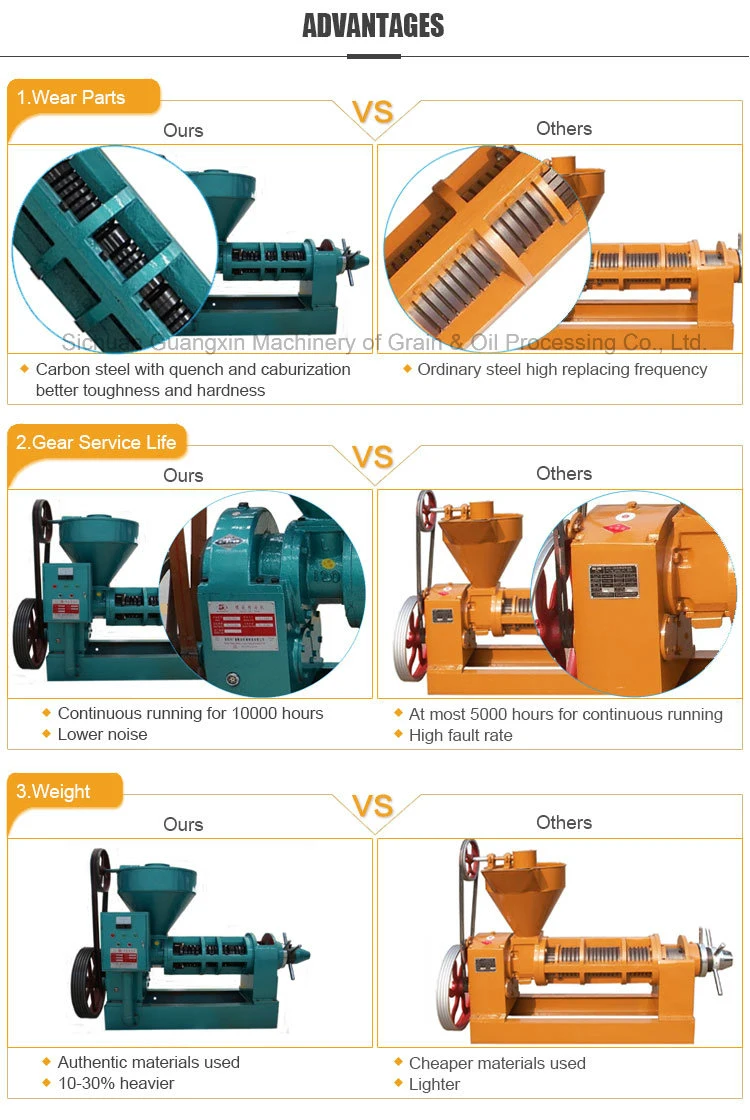 Q: If I don't know how to operate this machine? How can I do?
A: Our machine has been tested OK and fully assembled before shipping, customer just needs to make2~4 hours wear-in and then can work.

Q: What's wear-in for new machine?
A: Using 10 KG oil cake + 1KG sand + 1KG water, mix them, put in oil press, wear in 3~4hs.
1. 1st hour, adjust oil cake thickness as 3mm.
2. 2nd hour, adjust oil cake thickness as 2.5mm.
3. 3rd hour, adjust oil cake thickness as2 mm.

Q:Can i be a distributor of Guangxin oil press?
A: Of course you can.

Q:What are the benefits of being a Guangxin distributor?
A: - Special discount .
- Marketing protection.
- Supporting of marketing development
- Point to point technical supports and after sales services.

Q: How can i become a distributor of Guangxin?
A: Contact us immediately for further details by sending us an inquiry.

Make order right now! And why?

One of our clients called us for buying wearing parts and he told us that his machine bought from us in 1990s. Its really! So, don't worry about the quality. Its beter than your think!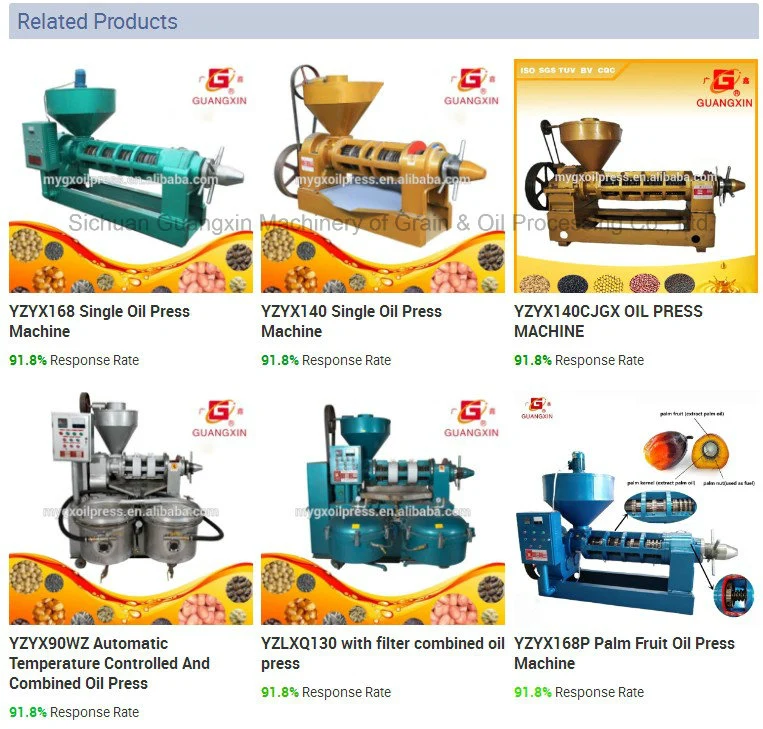 30YEARS FACTORY ---------- your honest partner
Contact Us
Hannah Xiao
Sichuan Guangxin Machinery of Grain & Oil Processing Co.,Ltd
Mianyang Guangxin Import & Export Co., Ltd
Add: Southern Section Of 1st Ring Road, Huagai Industrial District, Anzhou, Mianyang, Sichuan, China
Tel/Fax: +86 816 2688687
Mobile:+86 18881125800
Website :cnguangxin.en.made-in-china.com