1 Ton Per Day Small Vegetable Cooking Coconut Soybean Peanut Sunflower Palm Crude Oil Refinery Machine
Brief introduction of crude oil refinery plant
1. Oil refinery plant usually includes the following sections: Degumming, Neutralization, Bleaching, Dewaxing and Deodorization. The process of removing these impurities after oil extraction section is called oil refining.
2. The crude oil obtained either from expellers or solvent extraction plant contains impurities, which must be removed to make the oil edible, more palatable and stable against rancidity upon storage.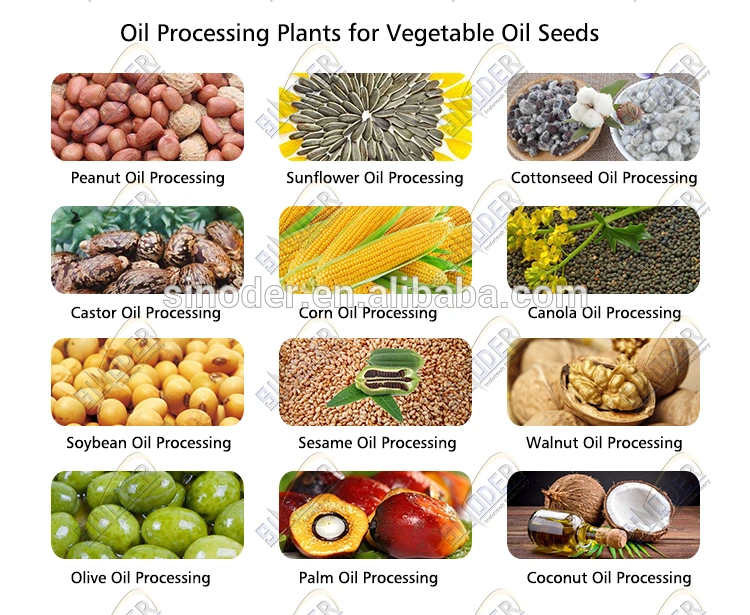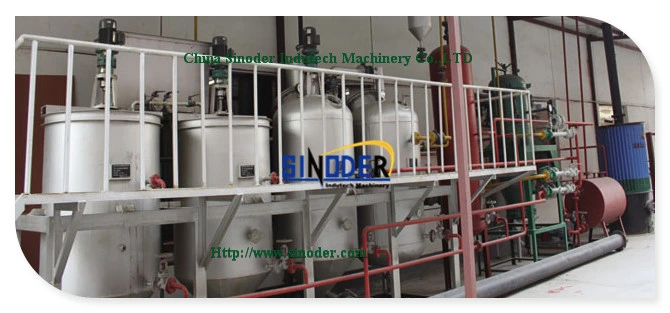 Main process of crude oil refinery plant
1.Degumming Section: Some impurity, such as Phospholipid, gum, and protein, can be dissolved into oil when there is no water, but once there is water in oil, these impurity can be dissolved into water. So, in degumming section, we use the hot water to wash crude oil for two-three times to remove these impurity.
2.Neutralizing Section: Crude oil contains much free fatty acid, which is harmful for health. Free fatty acid can have the reaction with caustic soda, during the reaction, it can be saponified and becomes soapstock, then small soapstock pellets will sink and becomes sediment and be pumped out. After neutralizing, most of the free fatty acid will be removed out.
3.Decoloraztion Section: Most of the crude oil has deep color because of the pigments, such as carotene, xanthophyll, etc. We use bleaching earth to remove pigments, because bleaching earth has strong adsorption capacity. Then pump oil into plate filter to remove bleaching earth, then pigment also will be removed out along with bleaching earth, then oil will be
4.Deodorizing Section: Pure oil has no smell, but different crude oil has their special smell because of some volatile matters, for example the oxide for ketones, aldehydes, hydrocarbons. In deodorizing section, we deliver steam into oil continuously, and make sure steam and oil can fully contacted under high temperature and pressure, then volatile matters can be removed out along with the steam.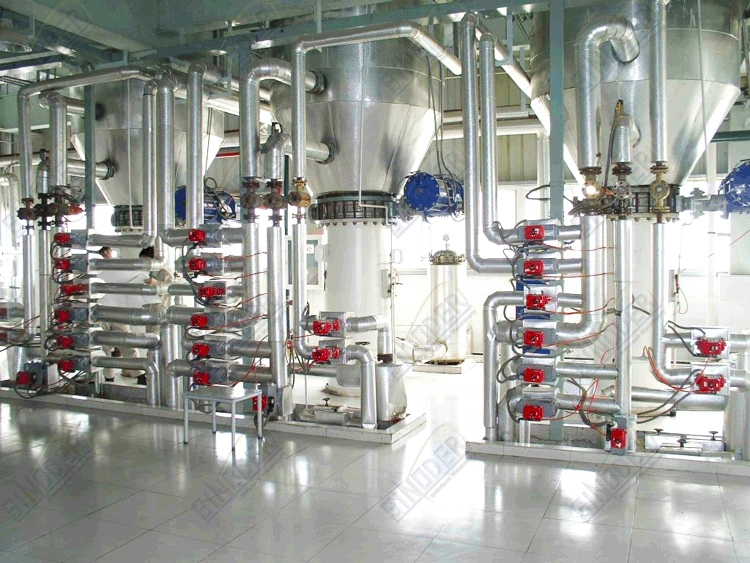 Main technical parameter
| | |
| --- | --- |
| Name | Soybean crude oil refinery |
| Capacity | 1T,10T,15T,20T,50T,100T,200T,500T,1000T/D |
| Main process | Degumming, neutralizing, decoloration |
| Final product oil | Salad oil, high cooking oil |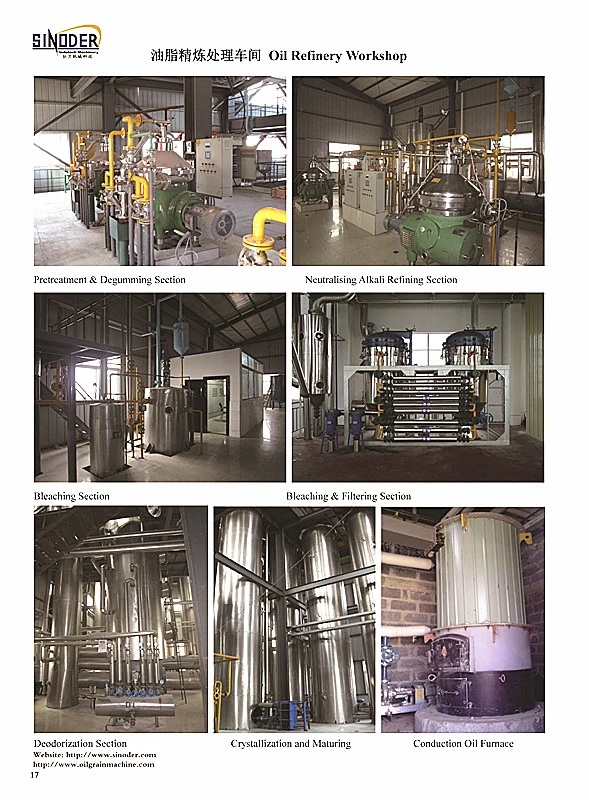 The method of refining
1. Chemical refining
2. Physical refining
3. Chemical-physical refinining
4.Batch oil refining
5.Continuous oil refining
6.Semi-continuous oil refining
packing and shipping
1.Waterproof packing with the international export standard by 20ft, 40ft, 40hp container.
2. Equipment Fittings, Electric Motor and Power Cabinet will be packed in Wooden Case or Iron Box. Other Equipment will be packed by Color-Stripes Plastic Cloth.
3. Or as per customer's requirements.
Our services:
1.Pre-sale services:
1) Selecting equipment type;
2) Designing and fabricating the products in accordance with the special requirements of the clients;
3) Training technical personnel for our clients;
4) Providing construction and technology consultations or working out proper construction schemes for those new, special or difficult projects.
2.Services provided during the sale:
Respect our clients; present the clients with ease, relaxation and a surprise; devote ourselves to improve the total value of our clients.
1) Checking products acceptance ahead of delivery;
2) Introducing the service system to our clients.
3. After-sale services:
Improve the added value of our products, and let the clients free from the using troubles:
1) Assisting the clients preparing for the first construction scheme;
2) Installing and testing the equipments;
3) Training the first-line operators on site;
4) Examining the equipment regularly;
5) Taking the initiatives to eliminate the failure(s) rapidly at site;
6) Distributing the guarantee fittings door-to-door;
7) Providing technical exchanging;
8) Providing maintenance for big item