Soybean oil extraction plant description
Soybean oil extraction plant is used to derive oil from soybeans, including pressing and solvent extraction. We are the manufacturer of soybean oil extraction plant. Here we will introduce the main parts of the soybean oil extraction plant (solvent extraction process).
Soybean oil is the world's largest production edible oil, henan huatai soybean oil extraction machinery has four workshops: soybean pretreatment , soybean oil extraction plant, soybean crude oil refining plant, soybean refined oil filling plant.
Henan huatai soybean oil extraction technology process main processes:
Cleaning - Broken - flaking - oil extraction - oil refining - filling.



Soybean oil extraction plant

We can provide the complete 540,000 TPY AKA 1500 tpd soybean oil extraction plant uses continuous solvent extraction process to produce soybean oil. The plant includes three major sections: preparation section ( Pretreatment and Pre-press section), extraction and degumming ( Extraction and refinery section ).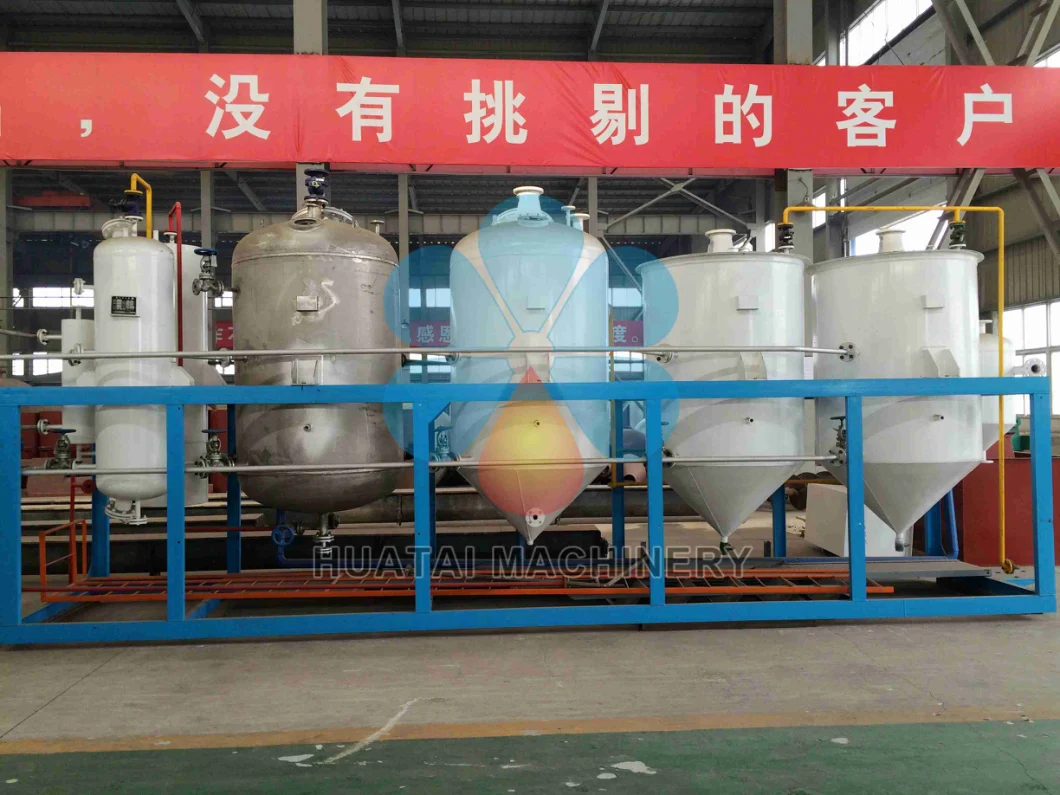 Below is soybean oil processment plant
1. Pretreatment part of the soybean oil extraction plant:
Soybean → Cleaning → Crushing → Softening → Flaking → Puffing (Drying) → Solvent extraction
a. Cleaning:
Cleaning section removes impurities in soybeans through magnetic drum, cleaning seive, stoning machine, etc. Soybeans from different regions need different cleaning machines to remove impurities. And our engineer can help you choose most suitable sets of cleaning machines according to your material.
b. Crusher:
It is used for crushing soybean into small pieces, which can help to extract more oil from the seeds.
c.Flaking Machine/Flake roll:
This machine can be made the soybean to 3mm-5mm flakes , it will destroy the soybean oil cell which is easy extraction oil out.
Soybean oil pressing machine:
2. Solvent extraction of the soybean oil extraction plant:
Soybean flakes → Extractor → Desolventizer Toaster → Stripping Tower (Oil Stripper) → Crude Soybean Oil
The pretreated soybean flakes are sent to soybean oil solvent extraction plant. The plant uses a kind of solvent(normal hexane) to absorb the oil from soybean, and then the machines separate
the solvent from crude soybean oil, solvent is used for recycling and crude soybean oil is refined by soybean oil refinery plant.
Rotocel extractor and loop type extractor.
3. Refinery plant of soybean oil extraction plant:
a.Degumming and deacidification section: This part is used for removing the phospholipid and FFA in the crude oil.
b.Decolorization section: this part is utilizing the white clay to get rid of the pigment in the soybean oil. It can make the soybean oil much more clearer.
c.Deodoriztion section: This part is using the direct steam to take the beany flavor away, to make the soybean oil good flavor.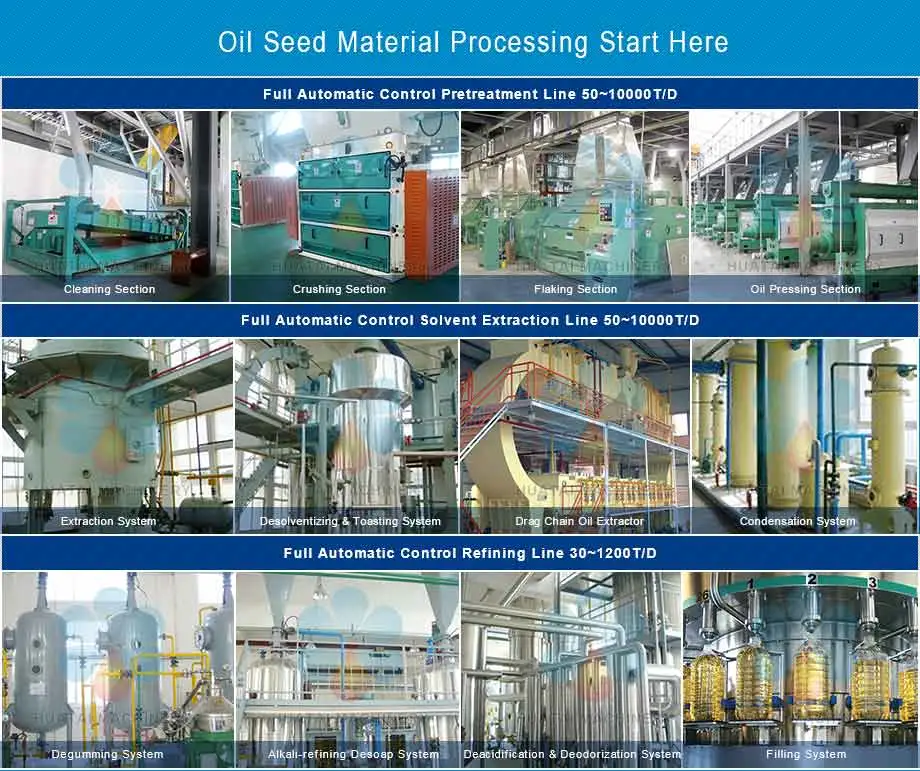 1, Perfect soybean clean section .we mainly use: separator - removing metal impurities in soybeans; Classifying screen - grade soybean processing; cleaning sieve - remove large impurities than soybean size; suction fan - removing impurities wiht lingher weight ratio than soybean; stone destoner - removed stone in soybean. The complete cleaning process, can remove 99% of all impurities insoybeans, reducing the wear and tear of the follow-up device and to ensure the quality of soybean oil.
2, Accurate flaking station. Soybean embryo pressed into sheet 0.4mm, this thickness can ensure uniform distribution of oilseeds cells on the surface of the green sheet, to avoid the destruction of oilseeds loss,but also the back of the oil extraction process more smoothly, our flaking machine easy to operate, can strictly control the thickness of the embryo tablets.
3, Energy saving and protecting enviroonment oil extraction system. Huatai oil extractor is our patented product, its unique absorption exhaust systems and multiple use of thermal energy can save cost for customers.
Just contact emma if interest: